How to Restore Missing Drawings in Linea Sketch
Sometimes bad things happen and your data can be lost including drawings you've created in Linea Sketch. Hopefully, you were diligent and read our tips on how to backup your important drawings and made an archive which you can use to restore your work. If so, skip ahead to step 7 here, otherwise read on.
Here are some things you can try (in order) to restore your drawings in Linea Sketch.
1) Force quit Linea from the multi-tasking bar in iOS.
While in Linea, swipe upwards from the bottom of the screen to active the multi-tasking bar in iOS. When you see Linea's active window displayed along with your other apps, flick up on it to force quit it. Next, restart the device and re-launch Linea Sketch to see if your work has been restored.
If sketches are missing on your Mac, try simply restarting your Mac before you do anything further.
If that doesn't work:
2) Toggle Use iCloud off then back on in Settings.
Open Linea Sketch and from the Project View tap Settings (small gear icon at upper left) to open the in-app Settings. Hopefully the Use iCloud option is turned on which means Linea should be making backups of your sketches on iCloud. Toggle Use iCloud off. Select the Keep Copies on My iPad option when presented with the next step. Wait a few moments and then toggle the Use iCloud option back on. This should trigger a refresh of your iCloud data that will repopulate Linea's project folder and restore your drawings.
You may end up with duplicate projects or sketches, but you can delete the duplicates later when you've verified your drawings are restored. You may also see dotted document icons where your sketches used to be. Simply tap on those drawings and re-download them from iCloud by tapping on the small iCloud icon in the upper right corner of the sketch's thumbnail or tap the More Actions (…) menu > Download All to quickly download every drawing in the project from iCloud at once.
If that doesn't work:
3) Sign Out and Back into iCloud
Sometimes iCloud needs a kick to refresh its contents and signing out of your Apple ID / iCloud account and then back in forces it to refresh. You should do this on the device where your Linea sketches are missing, so if you see sketches present on iOS but not on your Mac, sign out and back into iCloud on your Mac and vice versa.
If the above three steps fail to restore your sketches then it's time to move onto more active measures.
4) Use Linea's Versions Feature to Restore Individual Sketches
If you have Use iCloud turned on in Settings, then you should be able to restore work on a sketch-by-sketch basis using Linea's built-in Versions feature. Here are the steps:
Open a project that contains a missing sketch
Tap Select at the top of the Project view > tap to select the missing or broken sketch
Tap the More Actions menu (…) > Versions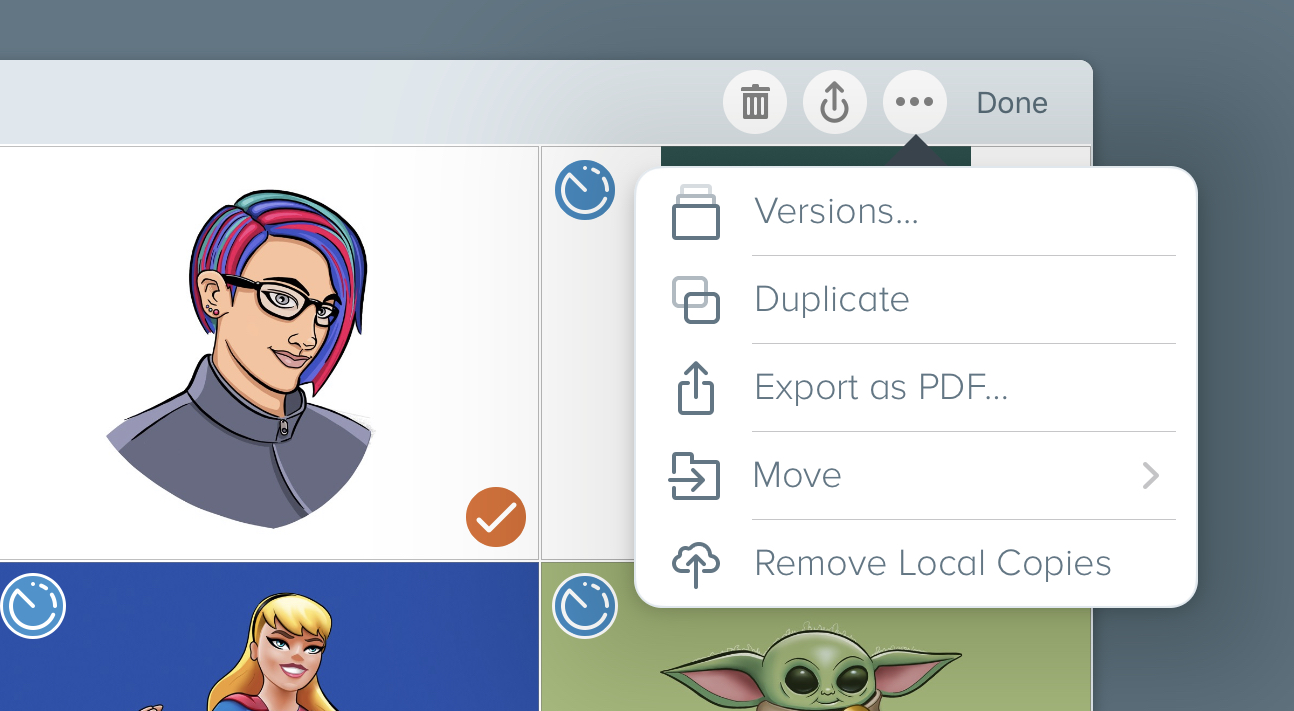 You should then see a dialog box containing the historical revisions of this one sketch that can be restored. Tap the one you want to use to restore (usually the most recent one before the data went missing) > tap Restore at the top of the dialog.
Next, tap New Sketch with Version from the options presented. This creates a COPY of the sketch and places that copy in the project folder which is safer than restoring the backup over the missing sketch.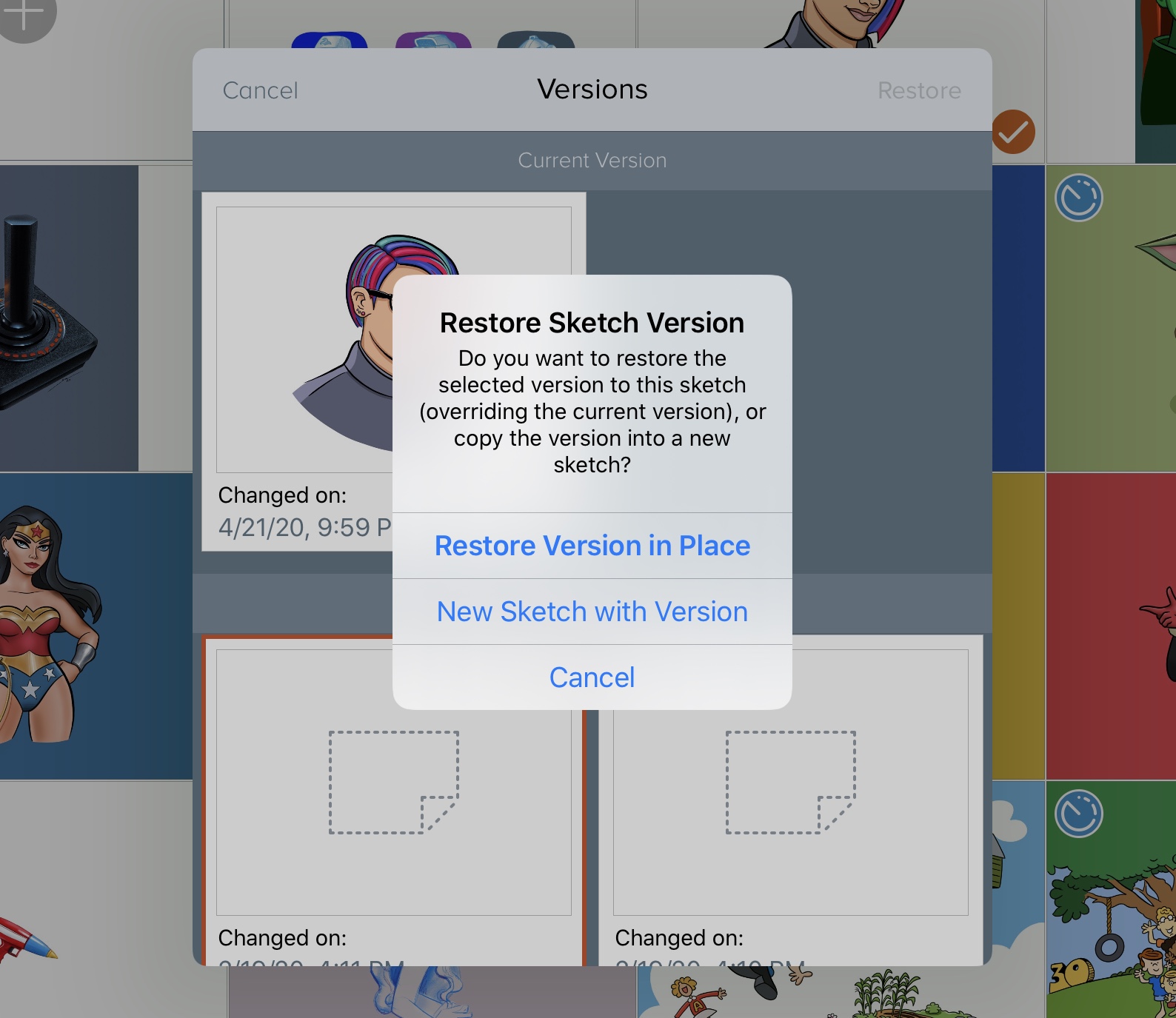 This method works well to restore individual sketches but if you've lost all your work or all of the sketches within multiple projects you should try the next steps.
Sometimes your actual data becomes corrupted or iCloud overwrites your documents by accident. This was a major problem during Apple's development of iOS 13 and we still see sporadic reports of this happening even today. Sometimes your drawings are actually over-written by iCloud with zero bytes of data (which, needless to say, is bad) and when this happens it may be necessary to restore your files from an iCloud or local backup.
5) Restore Your Data from iCloud Backups
In Safari visit iCloud.com on the web and log in to your iCloud account with your Apple ID. Click the Account Settings link directly under your name and avatar at the top of the page.
Near the bottom of the iCloud Settings page, under Advanced, click the Restore Files option. You'll then see a dialog box as iCloud searches for data that can be restored from their internal backups, this step may take a few minutes.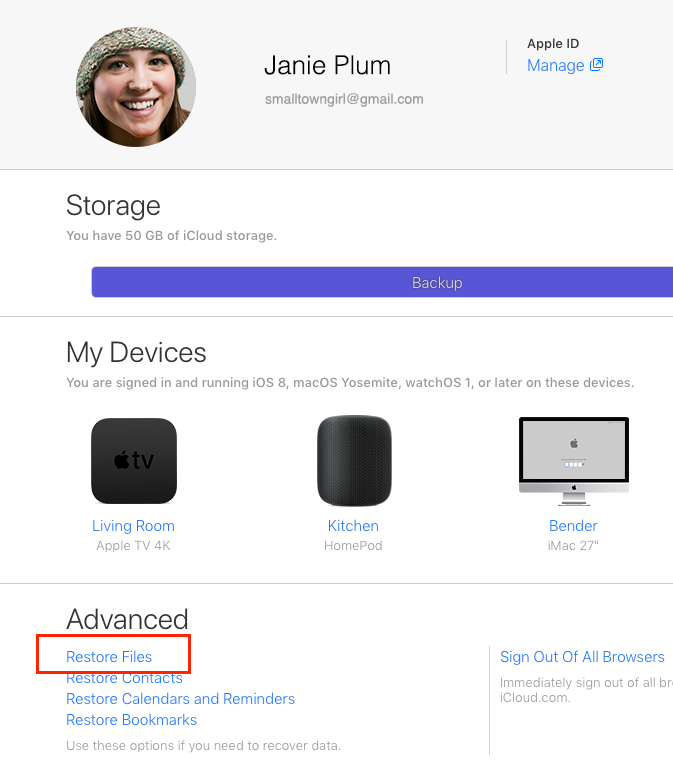 If you have sufficient space on your iCloud account and your drawings were lost or overwritten within the last 30 days, you should be able to select your work from the resulting list of files and restore them successfully. Any file that was deleted (or overwritten) more than 30 days ago is unfortunately permanently lost.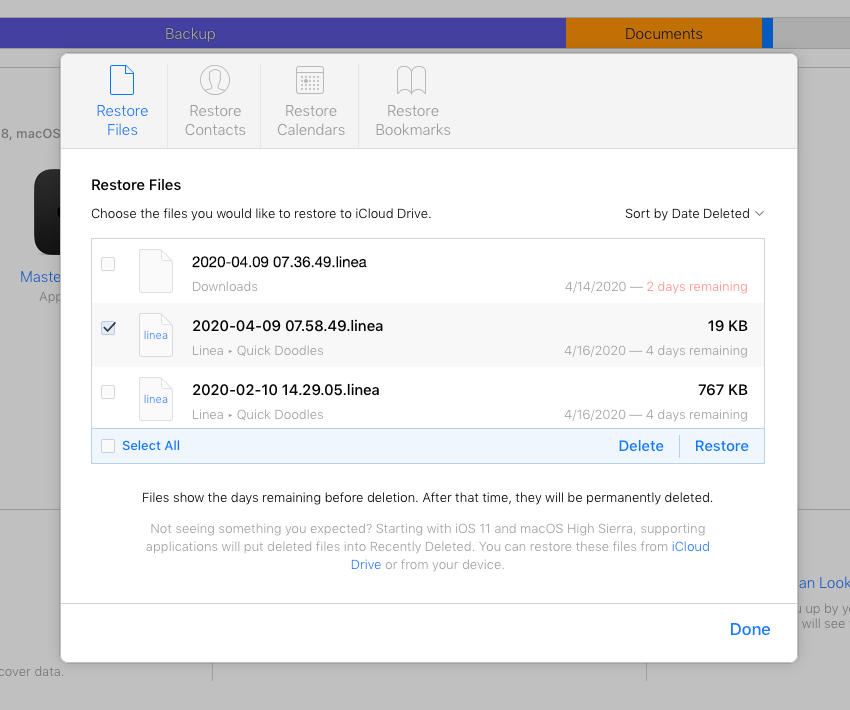 Select the drawings you want to restore or simply check the Select All box and then click Restore.
6) Restore from an iCloud Drive (Time Machine) Backup
In our How To Backup Linea Projects & Sketches article we outline steps you can take to help keep your drawings safe and one of the most reliable methods is to make physical copies of your data. If you own a Mac and use Time Machine, and if your copy of Time Machine is making regular backups of your iCloud Drive, you should be able to to find and restore your entire Linea folder within iCloud Drive to restore your sketches.
Sometimes people exclude iCloud Drive from being backed up to either save disk space or because, in theory at least, anything contained in your iCloud Drive is already being backed up by Apple in the cloud. We recommend always backing up your iCloud Drive folder via Time Machine because it's better to be safe than sorry.
7) Restore from a Physical Copy of Your Linea Folder
Hopefully you've been making regular, scheduled backups of your entire Linea folder contained within iCloud Drive. This is the safest, easiest way to ensure that your work is secure. If so, you can simply copy your entire Project folder structure from the backed-up copy on your Mac to within the Linea folder inside of iCloud Drive.
Once these files are restored and downloaded to your iOS device, you'll see the projects and drawings available in Linea Sketch for the iPad and iPhone.